Artificial Intelligence meets CRM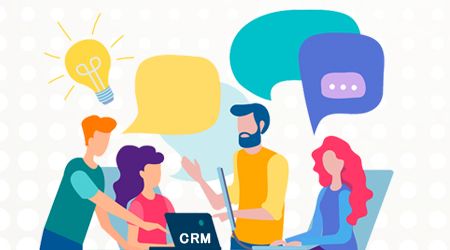 Together, CRM and Artificial intelligence are a very powerful combination, and the implications it has for your business is extensive. AI is good at analysing data and providing people with insights on how to best make use of that data. When AI is embedded into a CRM, it can do the following:
Detects patterns and predicts behaviour
Forecasting
Recommendations
Collecting and processing large amounts of data
Uses reasoning to calculate risks and solve problems
Several companies including Salesforce and Zoho, have integrated AI into their CRM platforms, with tools like "Einstein" that provides recommendations and predictions based on business processes and customer data. Another AI assistant is Zia, a voice assistant similar to SIRI and Alexa, where you can converse with ZIA through a chat function on the mobile app.
Advantages of an AI and CRM collaboration
By integrating AI into the CRM system, you can automate tasks like emails, customer reports, data capture, lead generation, schedule meetings, and speed up the sales process, allowing you to minimize and avoid human error in everyday tasks and duties.
A CRM powered by AI will be able to learn from past decisions and use historical patterns to predict future customer behaviour
Due to AI's ability to analyse customer emotions, you will be able to connect and engage with your customers at a whole new level by understanding customer intentions
Intelligent algorithms will make segmenting customers easier, based on demographics, likes, dislikes, and purchasing behaviour. AI-CRM software can track customer interaction points and provide you with precise forecast of their intentions and behaviours.
An AI-integrated CRM can study several different scenarios to determine which sales pitches will be the most successful, including price optimization, ideal discount rates for a proposal, and the most likely closing sale scenario.
Through automated data entry and intelligent data analysis, organizations can create more accurate profiles of customers that would most likely purchase their products.
Applications will be more intuitive with easy-to-use interfaces, increasing customer conversion rates, and the quality of the customer experience with the application.
AI tools mimic sales agents, and act as the point of engagement between a lead organization through emails and messaging. Once a lead is qualified, the sales rep can take over. In addition, predictive analysis tools help sales reps to identify which leads to follow and assist in building a better pipeline of prospects and customers.
It can analyse diverse sales scenarios and give recommendations during different stages of the sales funnel to help sales reps determine the best course of action to close deals faster
AI infused CRM software helps to tailor-make customer experiences and interactions, and being able to determine their state of mind, by analysing words, texts, tone, and conversation patterns. AI technology can also identify if a customer is happy or dissatisfied with a product in real-time and can respond to problems quickly with quantifiable solutions
The consequences of an AI infused CRM is game changing; equipping salespeople with the ability to transform customer relationships to a whole other level.